Welcome to the Kullaleden Walking Route!
Kullaleden is one section of the Skåneleden Trail SL 5 around the Kullen peninsula from Helsingborg to Utvälinge.
Kullaleden is 70 km long, and offers a great variety of experiences along the way.
Here you find everything including the medieval city centre of Helsingborg, beautiful views over the strait from the plateau heights, the well-known Sofiero Palace, Kulla-Gunnarstorp and Krapperup Estates, beaches and picturesque seaside villages, and Kullaberg's dramatic cliff formations.
News: Get the app before your hike!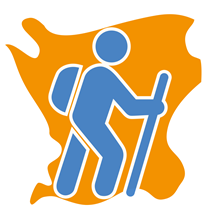 Get the app Ramble in Skåne. All you need to know in an app, also when you are offline.
Good for inspiration, perfect on the trek!
'Helsingborg and surroundings' by Fredrik Rosenqvist